Regular price
Sale price
$28.00 USD
Unit price
per
Sale
Sold out
Share
Midnight Sun is an earthy whipped tallow cream specifically designed for after-sun use for our long summer days. Midnight Sun is not a sunscreen. Midnight Sun smells slightly of maple donuts and comes in a 2 oz jar.
Tallow is at the heart of this product. Rendered to perfection in-house, this nutrient-dense ingredient works harmoniously with your skin to encourage elasticity, hydration, and restore it to its healthy state.
Tamanu oil provides a surge of hydration and revitalization. Tamanu oil is known for its remarkable skin-regenerating properties which promote a luminous and radiant complexion. 
Rose, a beautiful flower known to gently unveil a soft, supple glow. Rose is an especially ideal herb for maturing skin. 
For added minerals, dandelion is included to reveal a youthful and even glow.
To further aid in moisture retention, we've added marshmallow root to soothe reddened skin and offer intense hydration.
Note: Product may vary batch to batch as this is a 100% natural product.
Ingredients

Grass-fed Alaskan tallow, organic tamanu oil, wild rose, wild dandelion, organic marshmallow root
View full details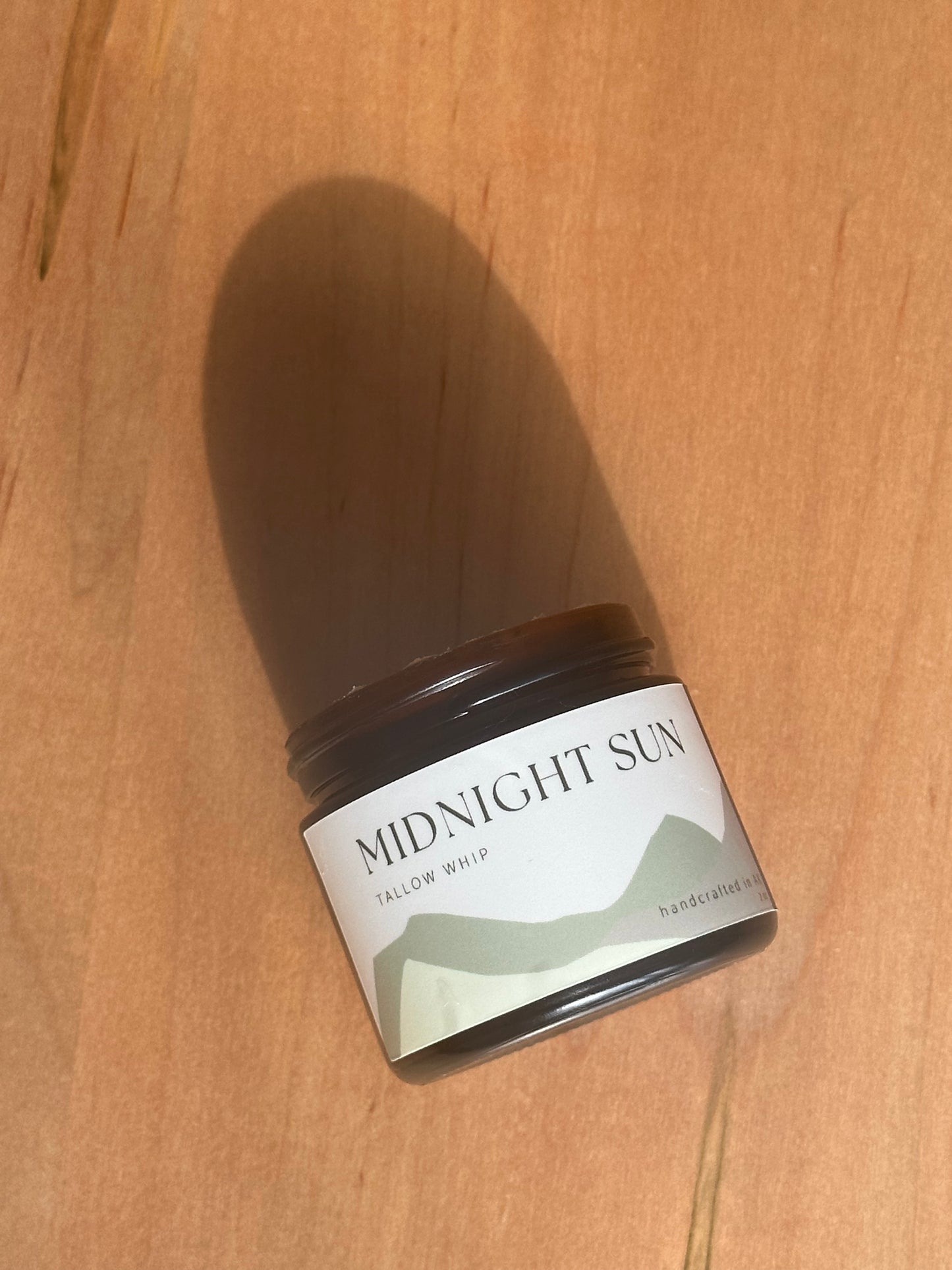 Midnight Sun Magick✨☀️✨
I recently purchased Midnight Sun tallow whip- I love the consistency and how it feels on my skin- I have had a very recent set-back on my allergies and Midnight Sun has been helping me get relief from this particularly severe round of infection and over-all skin inflammation- 10/10 recommend this to anyone looking for silky soothing whip for their skin- I will be purchasing this product again! ✨☀️✨☀️✨
Feels great/not a huge fan of smell
I love the way it makes my skin feel so I'm gonna keep using it. I use it as a night cream so it doesn't bother me too bad but the smell is strong. It could just be a matter of opinion :) I will continue buying from this place because it's a stone's throw from my house and I like to support local.
Amazing Product!
Midnight sun may be my very favorite product! I use it daily and it has done wonders for my skin. It also is amazing for sunburns. I had two days back to back at the lake and ended up with a pretty bad sunburn and this stuff made a world of difference! I put it on my shoulders and face before bed and the change from just one night was amazing! I would recommend this product to anyone.
Midnight Sun
I love how my skin is protected while it seals in moisture! It gives me a youthful glow for my bit of years!
Oh no! I'm hooked!
I just eliminated all the crap products and scents from my cupboards and, thanks to my angel daughter for gifting it, this item sits alone! I don't know if it's the tamanu or marshmallow root but I want to drink this up, just as my skin does! Can't wait to try the summer lilac edition. Yum! xx
Shipping

Orders ship between 3-5 business days. You will receive a notification when your product ships.

Shipping Policy

Returns / Refunds

Returns / Refunds are not offered at this time--we're still too small! Don't hesitate to reach out if there's a problem with your order though! We'll make it right.