Regular price
$26.00 USD
Sale price
$18.00 USD
Unit price
per
Sale
Sold out
Share
Gua Sha is the beautiful Chinese practice which comes from the word "scrape". Traditionally, Gua Sha would be performed to induce light bruising on the skin known as petechiae. This bruising would indicate that increased circulation--meaning more nutrients to the area being treated. Gua Sha to the face is wonderful for increasing circulation, encouraging lymphatic movement, reducing sinus pressure, muscle relaxation, and encourages facial shaping/slimming. 
Note: this product is fragile and should be stored away from countertop edges. Take care to wrap it gently when traveling with it. 
View full details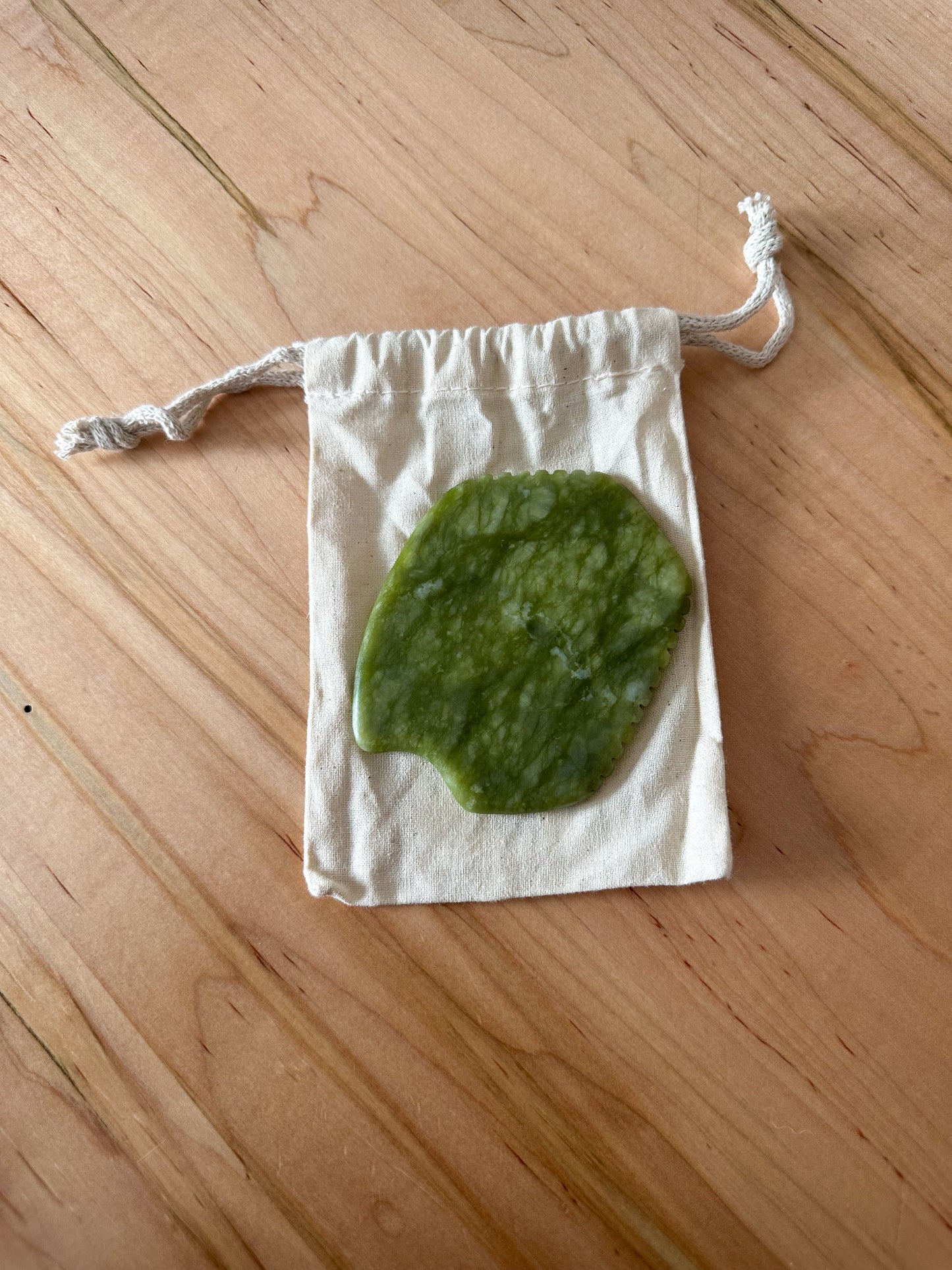 Wonderful stone
This is a perfectly shaped stone. Lots of different angles to use for different areas. I'm really happy with the quality.
I love it, but. . .
I used the stone every day for a couple weeks. Today it fell to the floor and shattered. It was much more fragile than I anticipated. I didn't have it stored in it's little bag, so it's my fault. I'm sure I'll buy another one at some point. It was helping with my puffy allergy face. Buy it, but take better care of it than I did.
Gua Sha for the WINNNNN!! 🫶🫶🫶💚💚💚
I have been looking for a good Gua Sha stone and it seems i had to look no further than Alaska Tallow Co!! Just picked mine up today and I was beyond excited to try it!!! I used it with the Rose and Chamomile oil cleanser!! It felt so amazing on my face- having never used one before I did not know quite what to expect- and this did not disappoint!!!
Left my skin with a rosy glow and it actually helped to depuff my face- I used it on the sides of my neck for lymph drainage as well. Super excited that I bought this and cannot wait to see the long term results from daily use!!! 10 out of 10 recommend this Gua Sha for anyone curious to see what it is all about!!! Another amazing product from Alaska Tallow Co!!! 🫶💚🫶💚🫶
Shipping

Orders ship between 3-5 business days. You will receive a notification when your product ships.

Shipping Policy

Returns / Refunds

Returns / Refunds are not offered at this time--we're still too small! Don't hesitate to reach out if there's a problem with your order though! We'll make it right.